This is very much the application I've been wanting as a busy speaker.
Over the last day or so I've started to add a bunch of my presentations into the Beta version of Notist. Given that I speak at over 30 events a year, I'm a pretty good case study to see if everything is working well. Once we're happy and have finalised the bits of infrastructure needed to allow other people on board we'll start inviting people onto the platform.
What have we been doing?
Creating something that will help to really show off your presentations involves a significant amount of behind the scenes work. Slide decks can be big, and contain images and embedded text. Once we import your deck, we save each slide as an image, however not all slides are equal. Some slides are a large photograph, probably best saved as a jpeg. Other slides are solid colour and text, a PNG might be a better fit. So, having imported your slide deck we process it into the most appropriate formats. Then all of the content is extracted to form the basis for captions for your slides - if you like you can upload a second deck which you have exported including your speaker notes, and we'll import those notes for you too.
You can then edit the captions and imported information as much as you like. Creating a useful asset out of that presentation, far more than simply a PDF of slides.

This is very much the application I've been wanting as a busy speaker, and with Notist slides are just the start. You can add the links and other resources that are part of your presentation, you can add Tweets (and soon other social media) to the presentation page. We're trying to make the process of collecting and publishing this information easy. And, once you have all of your information in Notist we give you access to it as json if you would rather display it on your own site.
As a little preview here is the page I created after my talk yesterday at An Event Apart, with my slides, resources and some tweets from the event. I'm so excited to have this for myself, and even more so to share it with other speakers.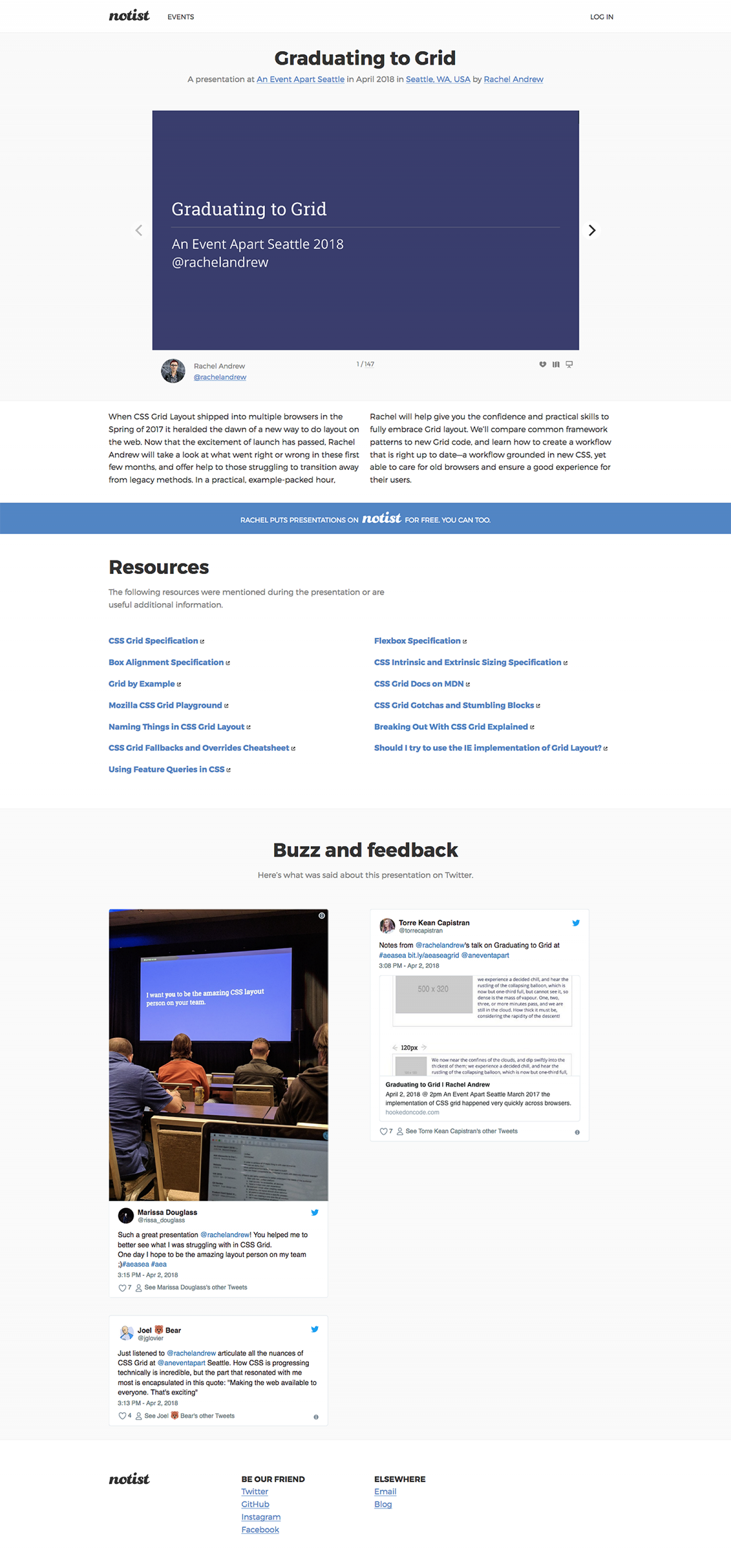 ---